Kremer sand and gravel
---
Kremer Sand and Gravel is a specialist in dried and calibrated sand and gravel. We have our own sand and gravel extraction locations and operate a highly advanced sieving plant. The sand and gravel are dried in a sustainable, CO2 reduced process. We are in full control of the entire production process, from extraction to sieving. Stringent quality checks and highly effective sieving ensure that you receive the purest sand and gravel. We provide certified filter sand for drinking water production, dressing sand or other sand types.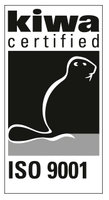 From extraction to sand bag, everything in-house
---
Kremer Sand and Gravel has control of the entire process from extraction to sieving of sand and gravel. This way we can quarantee our customers the purest possible sand and gravel.
Certification & quality assurance
---
Requests or contact
---
Would you like to order sand or would you like to know more about our range of sand and gravel or the ordering process? Please contact our sales department.
Contact us